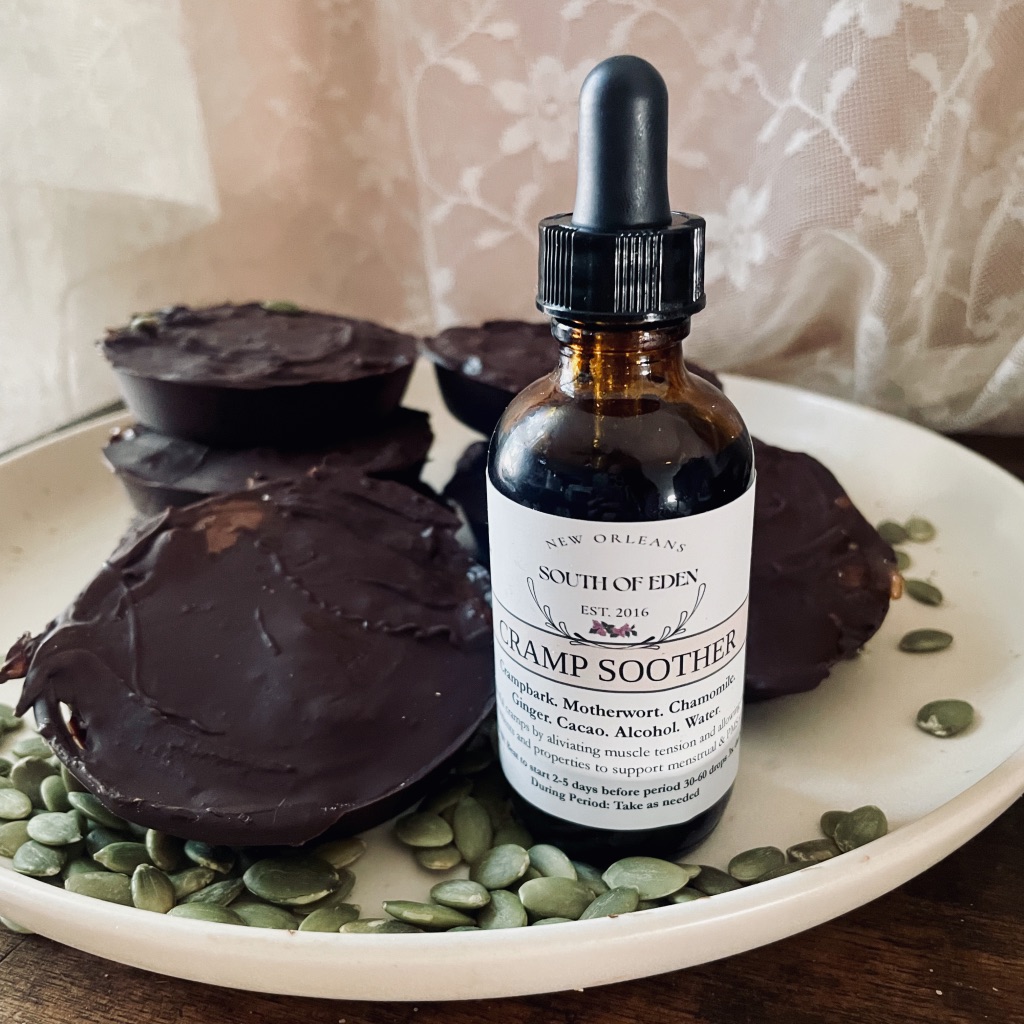 Recipes
RECIPE: HAPPY CYCLE PUMPKIN SEED BUTTER CUPS
|
April 19, 2023
By Liliana Ruiz-Healy
As we enter our PMS and Menstruation Phase, we need foods that relief cramps and balance our estrogen and progesterone. Cacao, Maca and Pumpkin Seeds are filled with essential minerals likes Magnesium, Zinc, Iron and essential fatty acids (plus hundreds more) that support hormonal balance and relax muscle tension to relief cramps. These also can help combat moodiness, promote calmness, and relax tense muscles. CYCLE FACT: One of the reasons we crave chocolate during this phase is due to low levels of Magnesium.
Infused with CRAMP SOOTHER TINCTURE, which I absolutely adore. I've been very consistent for a few years with it when PMS hits up to the first day of my Cycle, plus eating habits to get to a place where cramps are no longer an issue, where my hormones and cravings feel at a good place.
INGREDIENTS
1.5 cup pumpkin seeds, or store bought if feeling lazy.
6-8 tbsp of jam of choice (i like strawberry)
1 tbps maca powder
10 dropperfulls of CRAMP SOOTHER Tincture
1 Tbsp Honey
3 Cups 70% and up Melting Chocolate
Start by melting your chocolate in a double boiler method.
In the meantime, in a food processor ground Pumpkin Seeds. Add Maca Powder and Honey.
Once chocolate is melted, mix in the Tincture.
In silicon molds or small waxed paper tins spread chocolate – including the edges. Refrigerate until they harden.
Once cooled down, spread Pumpkin Seed Butter, Jam and the last layer of chocolate. Refrigerate until they harden.
CRAMP SOOTHER TINCTURE HERB BENEFITS
Crampbark: exceptional at relieving muscle cramps. It has a special affinity for smooth muscle tissues but works well for striated muscles as well. Considered a uterine decongestant which address bloating, cramping before menstruation, as well as delayed menses.
Motherwort: an emmenagogue, which is an herb that is used to promote delayed mensies, indicated when there is scanty menstruation or cramps associated with delayed menstruation. Many herbalists recommend using it regularly to tone the uterus, which reduces menstrual cramping in the future.
Cacao: high in magnesium, iron and anti-inflammatory properties which can help combat moodiness, promote calmness, and relax tense muscles. (Interesting fact: the reason we typically crave chocolate when experiencing PMS is because of low magnesium levels!)
Chamomile: The mild sedative effects of chamomile may reduce PMS symptoms, ease digestion and calm the nervous system; contains anti-spasmodic properties, which can relieve the painful cramps associated with the menstrual periods. 
Ginger: a study published in Phytotherapy Research found it to help alleviate period cramps and reduce heavy blood flows.