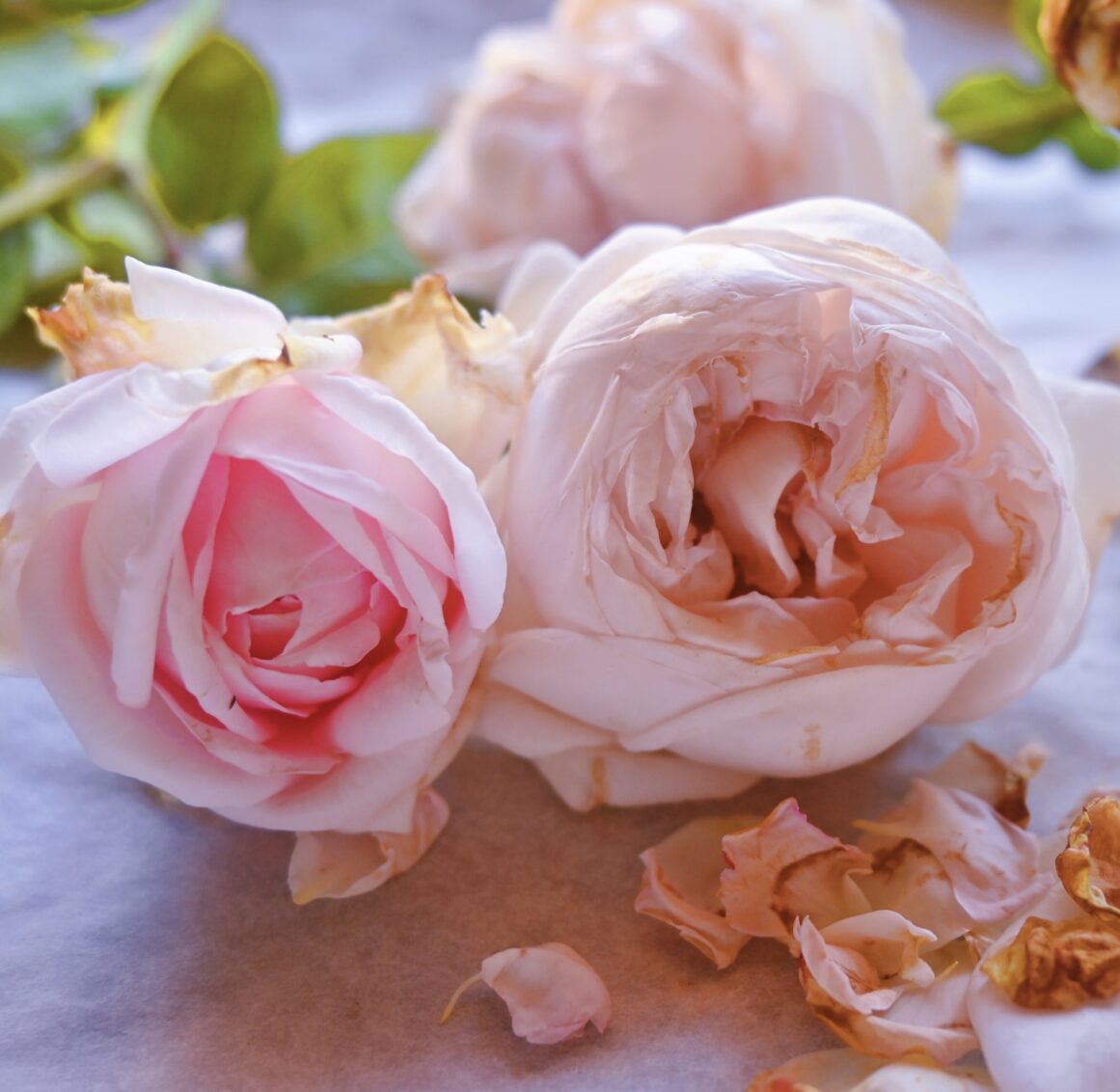 Lifestyle
LOVING FOODS & HERBS
|
February 13, 2021
Valentines is not only about love and sex between two people, it's about love and intimacy with our own self, a deep connection with our friends, pets, plants, and overall environment.
Research has shown that the more intimate and loving connections we have -this involves an equal share of giving and receiving- our stress leves go down and our immune system becomes more resilient. And the opposite may happen if we don't feel loved. Feeling unloved, alone, and/or depressed lowers our resistance to physical ailments.
And so we have day-to-day stress that piles up. We all do in our own way. And we forget to give ourselves the love we deserve and take for granted the relationships that are of value to us. But we also should not forget to let go of the ones that actually make us feel bad and create stress. Finding balance can get lost at sigh.
So remember to make time to pause, discover, rediscover and connect with these relationships that enhance our well-being. Today I will be sharing my top food and herb allies to nourish our hearts and mood.
ROSE
Rose is one of my favorite and most beloved plants. I've always had an attraction to all of her entity since I was a little girl. And it started with my crazy obsession with the color pink (more of an obsession with color in general).
Roses are deeply interconnected to our hearts. In fact, our DNA is so similar that they could be our ancestors. Some of her well known energetic benefits are: floods the uterus with new and refreshed blood, uplifts the heart, removes stagnant emotions, prevents depressive moods/mood swings, assists the connection between the brain and the mind, enhancing the Qi of our intuitive gateways. Although it's classically associated with feminine energy, it enhances fertility in both men and women, motivating circulation in our lower parts, the first chakras associated with creative energy. Emotionally it heals trauma, abuse, and a lack of self-love/ worth. Intake daily to feel the bliss of the present moment.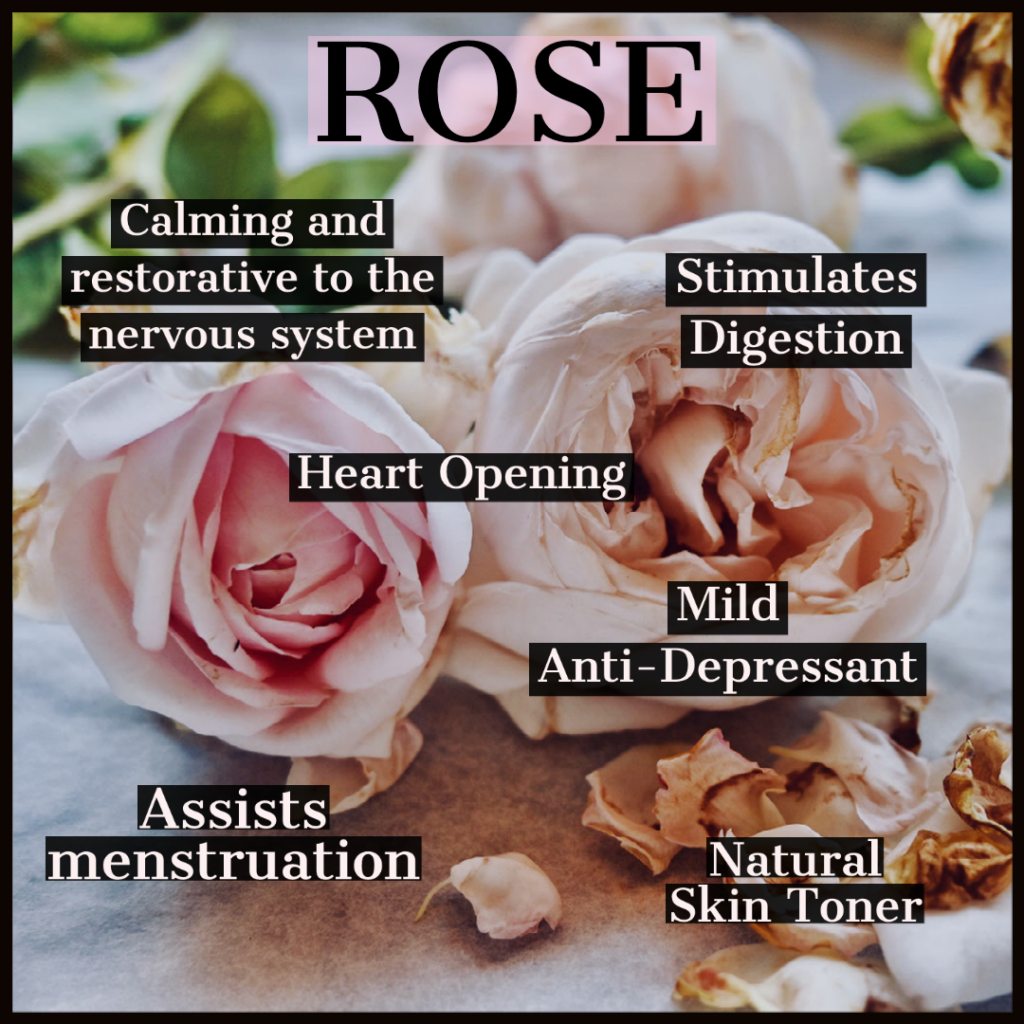 MACA
This root is considered to be an adaptogen (increases power of resistance against multiple physical, emotional, biological and/or chemical stressors).
Maca is rich in phytonutrients, amino acids, Vitamins B, B2, B12, C & E. It also acts as an endocrine modulator, regulating and balancing hormones, thyroids & adrenals. She also is highly known to reinvigorate fatigue, stamina, libido & mood.
NOTE: Cycle on and off. 5 days on- 2 days off OR 3 Weeks on – 1 Week Off
DAMIANA
Damiana has and is still popular in Mexico. It is well documented that different indigenous peoples of southern Mexico took and continue to take damiana-based remedies, with the conviction that in can increase their sexual potency and as an effective aid to combat lack of fertility or impotence.
It was and still is used an aphrodisiac, antidepressant, sexual inadequacy, debilitation, menstrual irregularities, as a reproductive tonic, for asthma, bronchitis, headaches, and as a stimulating tonic for the central nervous system which is intended to combat states of apathy, reluctance and lack of motivation.
Different clinical studies have been tested, suggesting that the alkaloids they contain could exert an action comparable to the testosterone hormone in men. A study on mice, and published in Science Direct, attempted to show that 10 mg. would favor the ejaculatory capacity in males and would show a relative anxiolytic effect on them.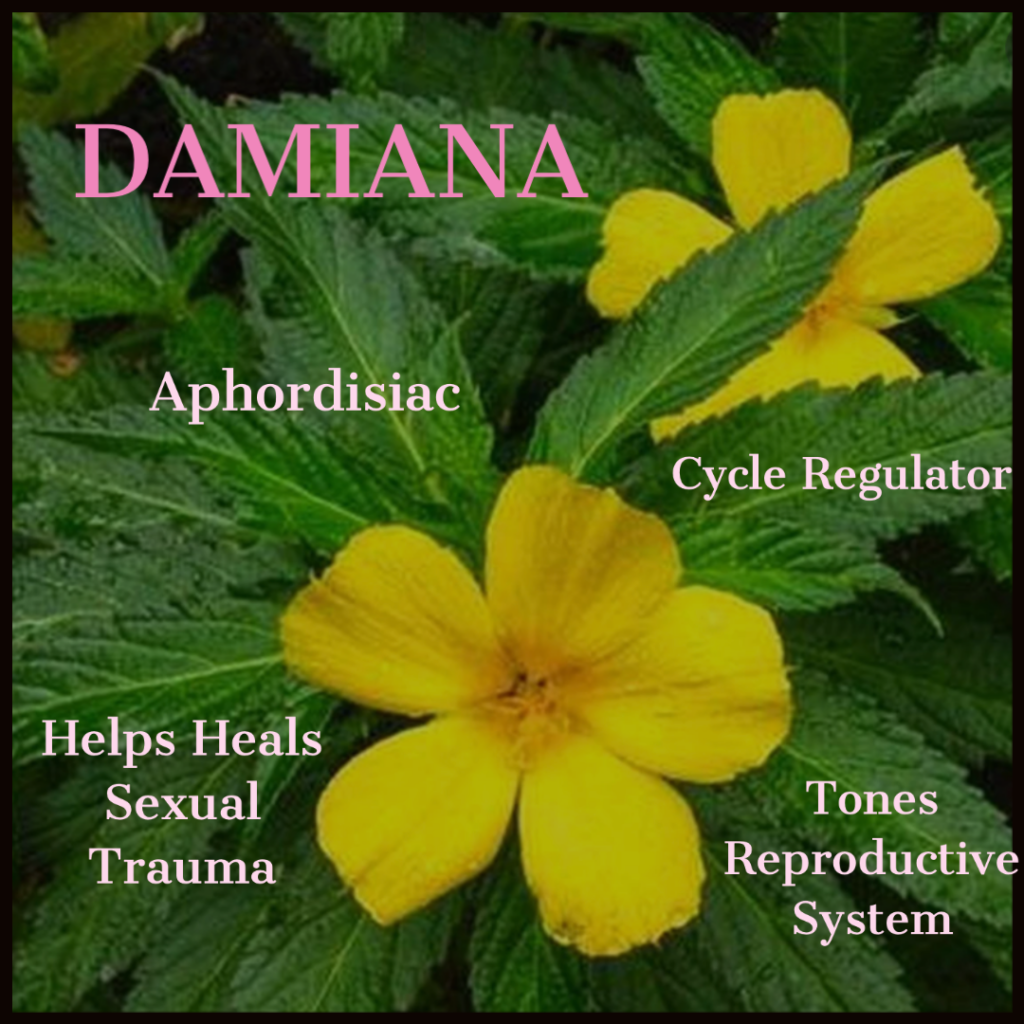 LEMON BALM
Although Lemon Balm is not so much of a heart opener itself, it is considered a nervine, which is very calming to the nervous system and is fantastic to pair with rose & damiana. At the same time, human clinical studies have shown that lemon balm can help people with dementia and uplift our mood by reducing stress levels.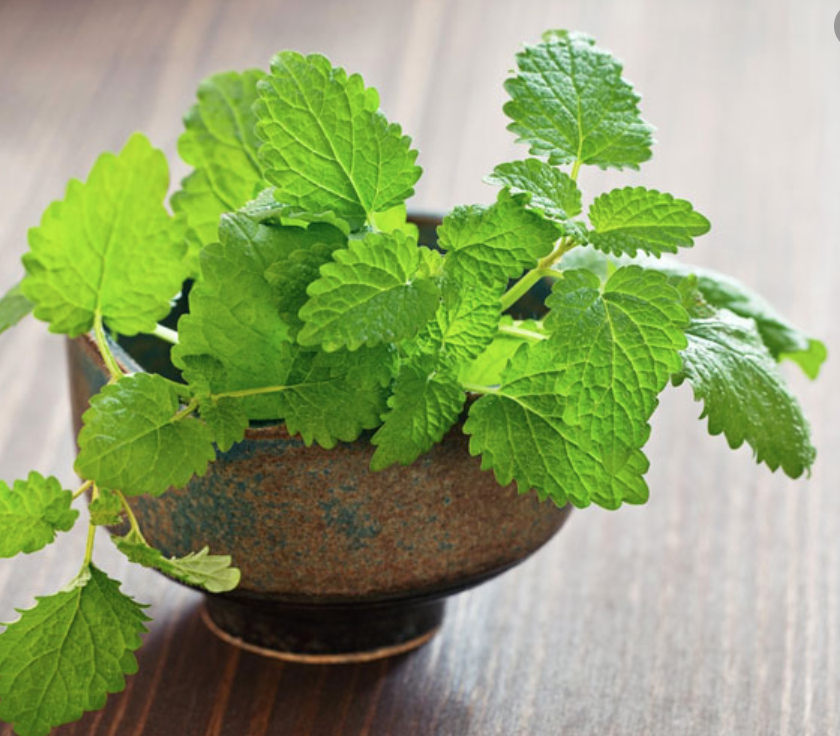 CACAO
Not to be confused with Cocoa. RAW CACAO is one of my top Beauty and Happy foods. Good quality chocolate -that is 70% dark or more & Raw Cacao – is quite nutritious and contains more than 300 essential minerals, vitamins, and nutrients we need to properly function including: – Magnesium, which balances brain chemistry
-Flavanols, which improves blood flow to the skin and can protect against sun damage and aging.
– Seratonin: key hormone that stabilizes our mood, feelings of well-being, and happiness
– Phenethylamine: (PEA) better known as the "love chemical"
No wonder chocolate is considered an aphrodisiac ? And These are just only to name a few.
Cacao is also an alkaline food (looking at those alkaline diet lovers), improves blood flow and oxygen to the arteries; lowers high blood pressure, and relieves PMS symptoms.
UPLIFT HEART RECIPE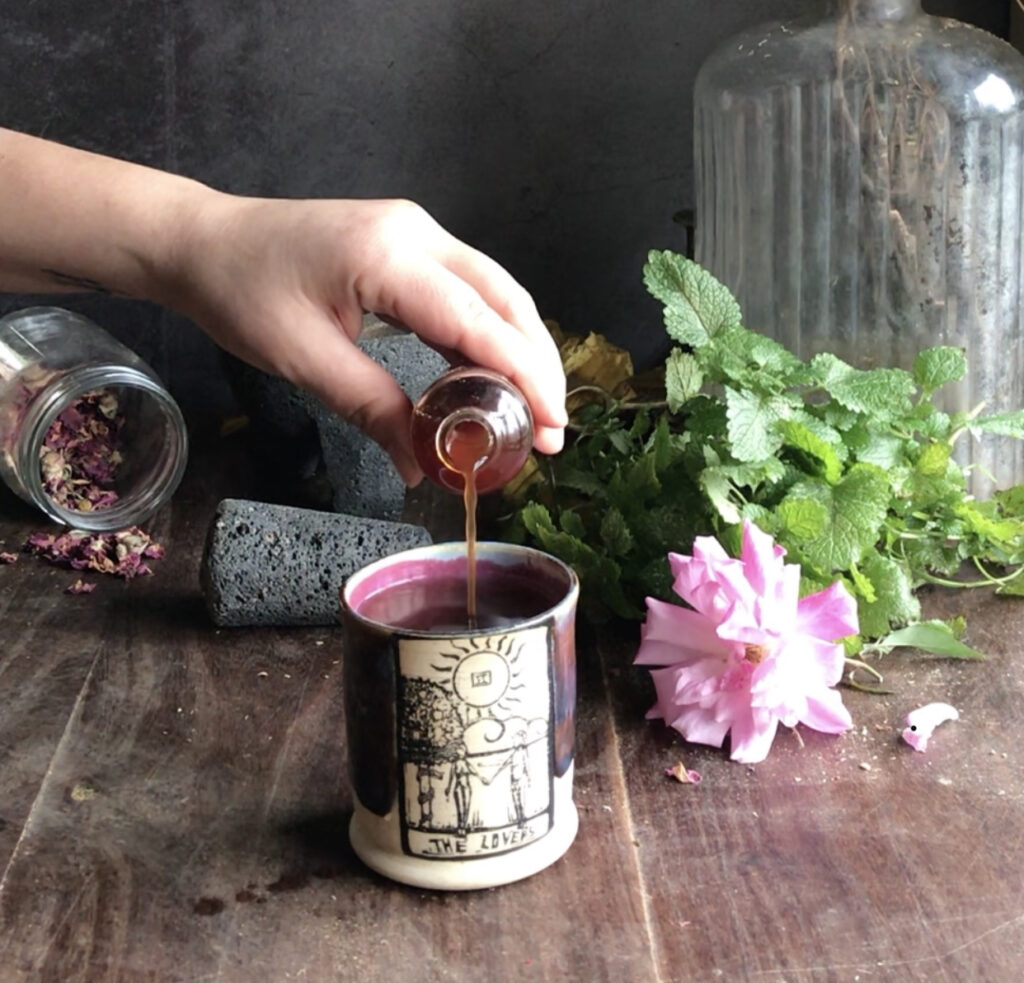 1 tbsp rose petals, dried and organic
1 tbsp lemon balm, dry or fresh
1 cardamom pod
2 teaspoons of our Aphrodite Cordial or 1 tsp Damiana. 
1 cup of hot water. 

All all ingredients into a jar/vessel and cover.
Allow to steep 10-15 minutes. 
Strain & Enjoy.