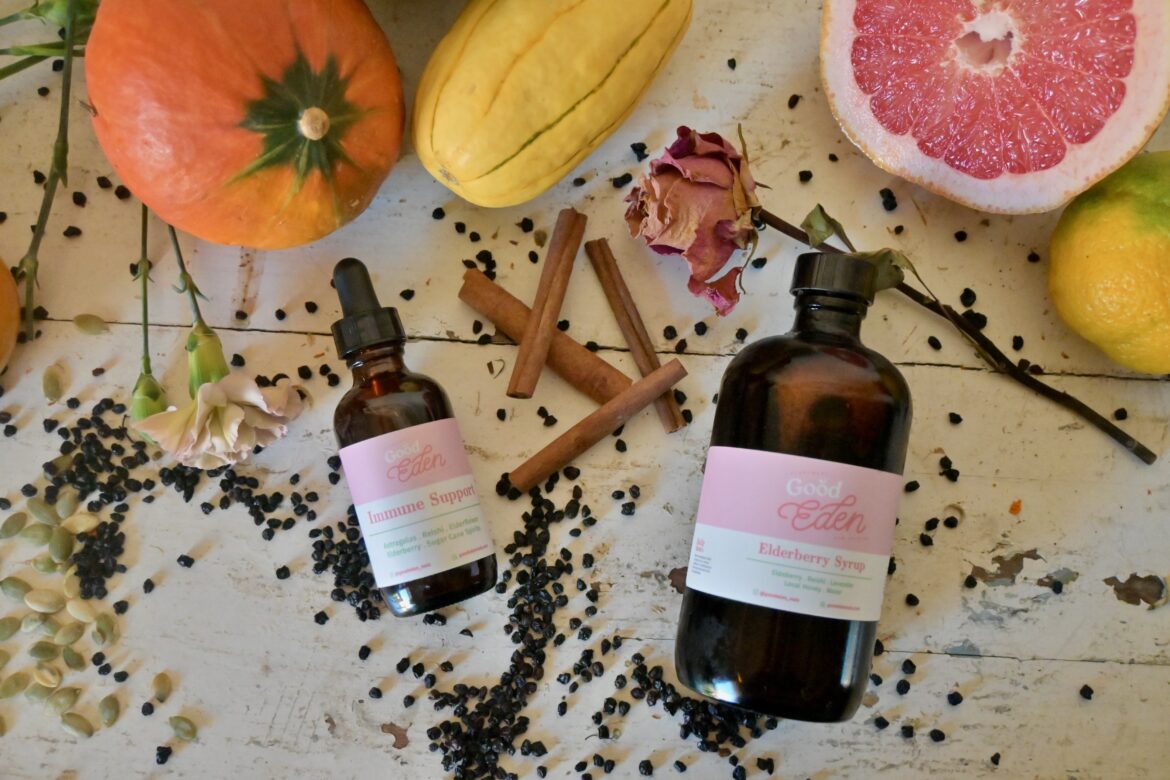 Lifestyle
November at Good Eden
|
November 2, 2020
This season was a bit creepier with COVID still haunting us, the flu bug beginning to emerge, and Zeta stirring us all up leaving many of us with power outages.
Keeping our bodies healthy and spirits nourished is a way of life at Good Eden and, like the rest of our community, we are resilient. Our immune systems are what keep us going, so we are focusing on how to strengthen them as we head into colder, hopefully quieter, months. At Good Eden, we find our center in the kitchen!
In the Market…
If you have little helpers in the kitchen looking for a snack, or need something to hold you over until a main meal, juicy local Satsumas and other Citrus Varieties are in season and many more immune-boosting citrus fruits will soon be available. They are naturally sweet and full of Vitamin C — perfect for staying healthy through the holidays.
While pumpkins are the trendiest of this season's squashes, Good Eden loves all squash equally…just like we love our customers. We have a ton of antioxidant-rich varieties including Kabocha, Acorn, and Delicata for you at the bodega, and we're incorporating them into our Curry and other seasonal offerings. Bundle up to enjoy these dishes at our outdoor cafe seating or purchase individual and/or family-sized portions to keep you warm at home!
In the cafe, we have a bounty of tasty immune-supporting options. Our Elderflower Chai is a cozy way to get warming spices to move our lymph system, while also stimulating our immune & respiratory system due to the properties of elderflower. Ginger Turmeric Kimchi is also a great choice not only for its antiviral and anti-inflammatory ingredients but also for keeping our guts healthy with probiotics. Our Kombucha is similarly full of healthy bacteria, and a great way to stay hydrated and get Vitamin C — try the Hibiscus flavor for an extra dose of immune support.
In the Apothecary…
Over in the Apothecary, we've concocted some excellent immune-supporting remedies and preventatives that are perfect for addressing seasonal illness: Our Immune Support Tincture contains elderflower & berry, which wards off bacteria and viruses, aids in respiratory function and reduces symptoms of colds, while Astragalus and Reishi, strengthen the immune system. Be sure to take this tincture regularly for 2-4 weeks to realize the benefits.
We also have a delicious immune-supporting Elderberry Syrup, made with reishi, rosemary, and local honey. Added lavender and cardamom lower stress levels–another important part of keeping our bodies healthy. Kids also love it! And speaking of more delicious elderberry concoctions, we have our Elderberry & Sage Oxymel, which has antiviral effects for our lungs thanks to sage, and raw local honey and elderberry.

Sometimes our bodies need a healthy form of stress — if yours needs a loving kick in the right direction, the Fire Cider is the perfect invigorator and restorative. In addition to combating viruses and bacteria, it's packed with anti-inflammatories like garlic and onions to aid in respiratory and sinus function and turmeric provides an added stimulant to improve lymphatic function. *Not recommended if you have GI or IBS issues, breastfeeding or taking blood thinners.
If you are curious about how to use the Apothecary products, remember that you can schedule a consult to learn more about using herbalism and nutrition to address your unique health and wellness